Right now, it is gorgeous here in Vancouver with lot's of sunshine! Expect more sunshine throughout the day tomorrow! But as we near the end of the weekend, it's going back to rain! So I suggest you make the most out of this weekend, but how???
Movie and Games and Potluck Night at the Office!
Watching an awesome movie, eating delicious food and snacks while playing fun and hilarious games?! Yeah, you know you want to be part of our gang 😉 so why don't you join us tomorrow night at the INTERNeX office? Bring food to share, games to play, and movies you'd like to watch! If you don't know what potluck is, it's basically bringing food that you made from home or just bought from a store, it can be drinks, popcorn, candies, chips, cookies, party food, etc. We're also going to play Cards Against Humanity…a game for horrible people but so much fun!
When: Tomorrow Saturday March 9 6:30 pm
Where: INTERNeX Office 200-211 Suite Columbia St, Vancouver
Join us on the Facebook event and check it out for more information!
Celtic Festival Vancouver!
In just a week, it will be St. Patrick's Day! What does this mean? Lot's of drinking, music festivals, and fun events! On Saturday March 9th, there is a special FREE kick-off celebration on March 9 at the Village on False Creek (the former Olympic Village). It's a family-friendly afternoon of free Celtic music, dance, food and fare featuring artists from CelticFest including: The North Shore Celtic Ensemble, SwingReel,Blackthorn and Vagabonds.
When: Saturday March 9th 12 pm to 5 pm AND IT'S FREE!
Where: The Village on False Creek (Plaza by Manitoba Street & Athlete's Way)
Visit here for more information on this festival!!
Vancouver's Poutine Festival!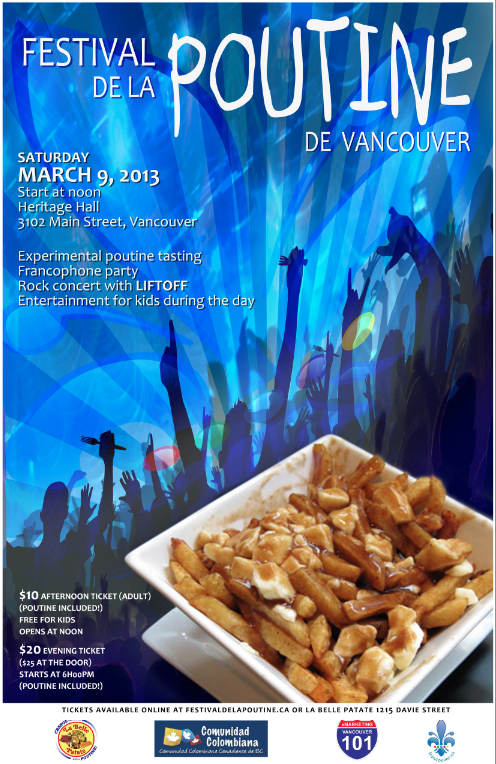 Are you a fan of poutine?! Then you'd love this awesome festival starting tomorrow noon until evening! The festival includes entertainment for all ages, rock concert, and experimental poutine tasting!
When: Saturday March 9 starts at noon
Where: Heritage Hall, 3102 Main Street, Vancouver 

Online tickets are now sold out but you can still buy them at the door! Visit here for more information!
Enjoy the sunshine 😉
Cheers,
Flora
INTERNeX International Exchange
Suite 200 – 211 Columbia Street
Vancouver BC -V6A 2R5-
Web: http://www.internexcanada.com
Phone: +1 (604) 662 8149
Email: pr@internexcanada.com